Blogg
På bättringsvägen/

Getting better
2015-07-04
Vi har haft en lite jobbig tid bakom oss. Big Daddy fick urinsten och behövde genomgå en operation, men blir bättre och bättre för varje dag. Det blev både foderbyte och ändrade matningsrutiner men nu börjar det sitta. Tack till Slöinge Djursjukhus och Travbanekliniken för att ni hjälpte Big Daddy tillbaka upp på tassarna igen!
We have had a bit of a rough time lately, Big Daddy got Feline Urologic Syndrome and had to go through surgery, but he´s getting better every day now. We had to change both the food and the feeding regime but now it seems to be working again. Thanks to Slöinge Djursjukhus and Travbanekliniken för helping Big Daddy get up on his paws again!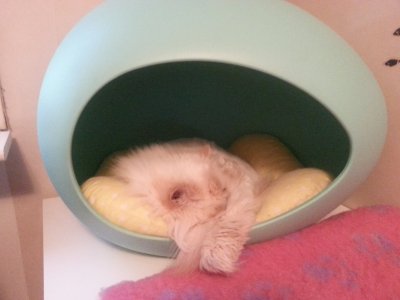 ---
Hipp hipp hurra...../

Hip hip hurray....
2015-06-11
Koshka fyller 5 år idag! Hon önskar sig en egen rosa säng med duntäcke och uppvärmning, samt en egen fontän, gärna i guld (jag SA ju att hon är den Förnäma...)
Koshka´s turning 5 years old today! Her wish-list includes a heated pink bed and her own fontaine, in gold ( I TOLD you she´s The Posh one...)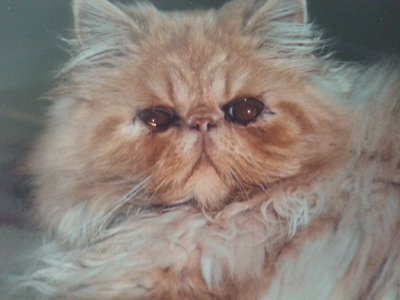 ---
Hur man löser konflikter /

How to solve conflicts
2015-06-05
Jag fräschade upp kattmynte-bananerna med lite valeriana spray. Big Daddy och Cayenne bestämde sig för att de ville ha samma banan trots att det finns 3 stycken. Det blev lite diskussioner mellan dem innan Big Daddy till slut framförde sitt budskap med all önskvärd tydlighet; det är MIN leksak. Punkt.
INGEN får tag i något Big Daddy satt sig på!
I decided to refresh our cat nip bananas with some valerian spray. Big Daddy and Cayenne both decided that they wanted the same one, even though there is 3. They had a bit of an argument over this until Big Daddy decided to prove his point. Period.
NO ONE gets hold of something Big Daddy sits on!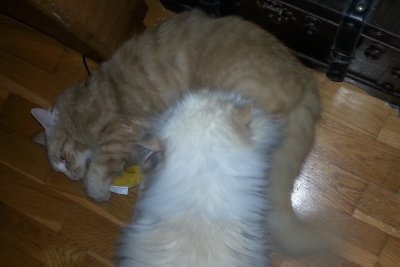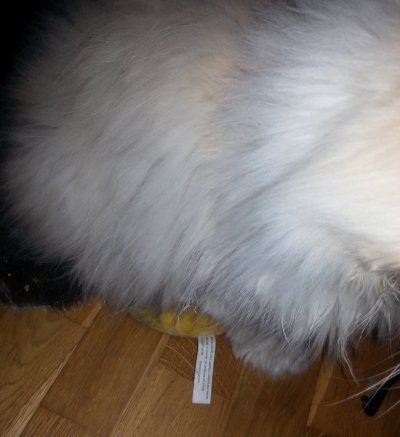 ---
Världen enligt Matimba /

The world according to Matimba
2015-06-04
Det finns mycket att fundera över. Som bristen på kattlucka, svåröppnade godisförpackningar, för lite dygnet-runt service, retstickan till igelkott och att svansen är alldeles för stor:(
Men också att godis är gott,jag har kompisar jag gillar, den innätade altanen och MASSOR av leksaker:)
There´s a lot to think about. Such as the lack of cat doors, goodie packages way to hard to open, too little around the clock service, the annoying hedge hog and the fact that the tail is too big:(
But also that goodies are really tasty, I have friends I love, the catio and LOTS of toys:)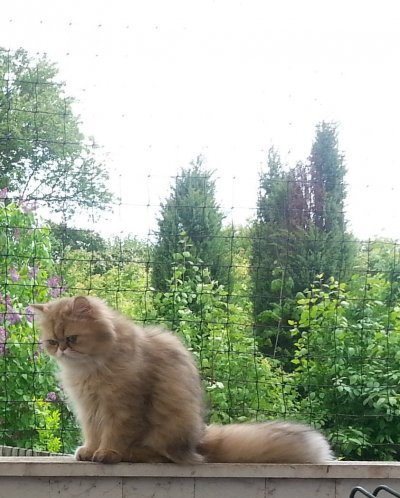 ---
Utomhusaktivitet /

Outdoor activity
2015-06-02
Det finns mycket man kan göra utomhus. Big Daddy provar på pole dancing. Khanya är inte så imponerad.....
There´s a lot of stuff one can do outdoors. Big Daddy tries some pole dancing. Khanya isn´t very impressed.....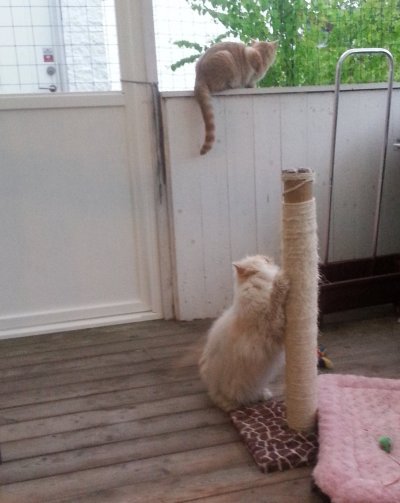 ---
Hipp hipp hurra /

Hip hip hurray
2015-05-31
Matimba fyller 1 år idag! Den envisaste, sötaste och mest bedårande lilla dunbollen. Hon har tillbringat dagen med att leka i prasseltunneln med resten av Flocken.
Matimba is turning 1 year old today! The cutest, most adorable and most stubborn ball of fluff. She has spent the day playing in the tunnel with the rest of The Pride.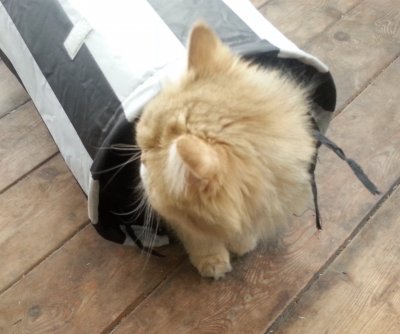 ---
Kvällsbesök / E

vening visior
2015-05-30
När jag tittade ut såg jag Khanya, Cayenne och Matimba sitta som statyer, fokuserade på något spännande i trädgården. Vid en närmare titt såg jag vad som fångat deras uppmärksamhet, vår igelkott på kvällspromenad!
When I looked outside I saw Khanya, Cayenne and Matimba being very fascinated and occupied by something exciting in the garden. A closer look revealed what caught their attention, our hedge hog out on it´s evening patrol!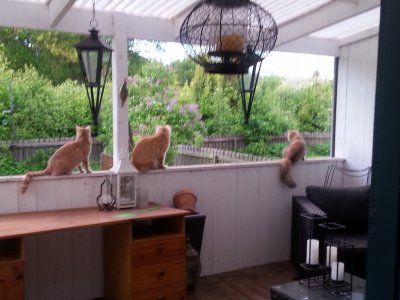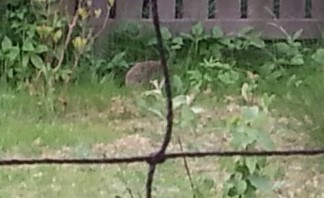 ---
Förvandlingen fortgår /

The transformation continues
2015-05-29
Vildkatten vägrar fortfarande komma in på kvällen! Det enda som fungerar är godis......
The wildcat still refuses to come inside at night! The only thing that can convince her is goodies....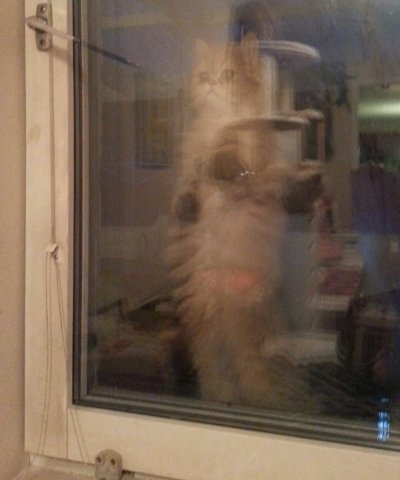 ---
Pojkarnas nya leksak /

New toy for the boys
2015-05-28
Vi har nog alla "bortglömda" diverse grejor i våra vrår..... Idag när jag hämtade in kattsand från förrådet snubblade jag plötsligt över detta. Det är en säck av tyg som jag sparat men inte riktigt vetat vd jag ska använda den till, men nu slog det mig; Cayenne! Han ÄLSKAR att krypa in i saker.
Så den fick följa med in och som synes; succé!!
I guess we all have various "forgotten" stuff stacked away here and there.... Today as I was bringing in more litter i stumbled upon this thing. It´s a fabric sack that I´ve keept but didn´t know for what purpose until now when it suddenly struck me; Cayenne! He LOVES hiding himself in all kind of things.
So I brought it in side and as you can see; success!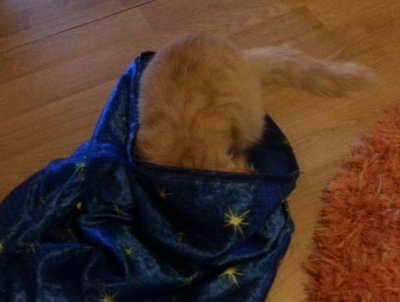 ---
Pågående förvandling? /

Transforming?
2015-05-26
Från att ha varit den mest skeptiska och försiktiga har Matimba nu plötsligt blivit "utekatt" och vägrar komma in på kvällarna. Jag måste fånga henne och bära in henne på kvällen för att kunna stänga dörren, och det är INTE enkelt att få tag i henne. Undrar om hon sakta men säkert kommer att förvandlas till vildkatt........
Initially Matimba was the most sceptic one and was very cautious, but now she has suddenly became an "outdoor cat" and refuses to come inside. I actually have to catch her and carry her inside at night in order to shut the door. She´s NOT easy to get hold of. I wonder if she´s slowly transforming into a wild cat......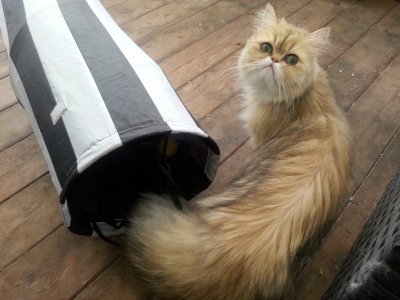 ---
På upptäcktsfärd /

Discovering things
2015-05-24
Katterna fortsätter sin upptäcktsfärd. Khanya och Cayenne har just upptäckt att vi har grannar.....
The kittie-exploring continues. Khanya and Cayenne has just discovered that we have a neighbor.....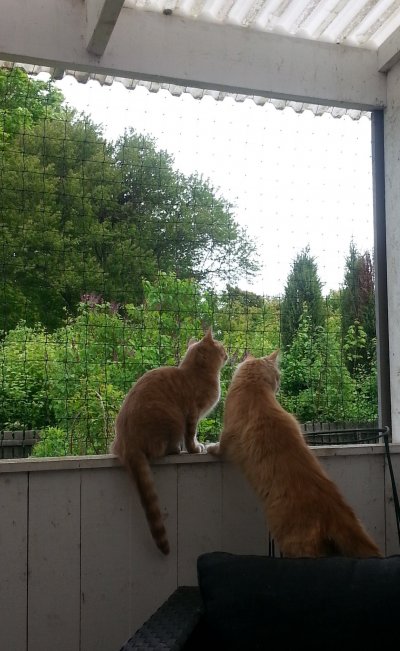 ---
Uteliv /

Outdoor living
2015-05-23
Idag har varit årets bästa dag för Flocken; dörren är på plats! Alla tycker att det är VÄLDIGT spännande och Big Daddy vägrar komma in......
Today has been the best day so far this year for The Pride; the door is in place! Everyone finds this VERY exciting and Big Daddy refuses to come inside.....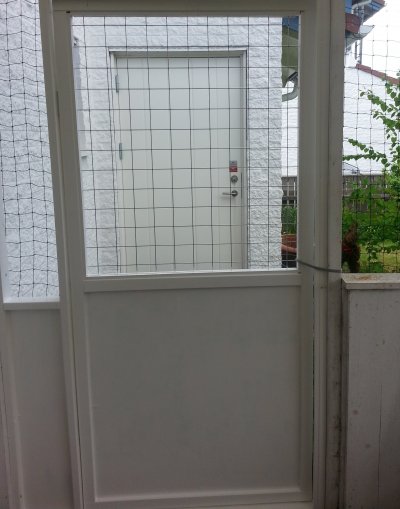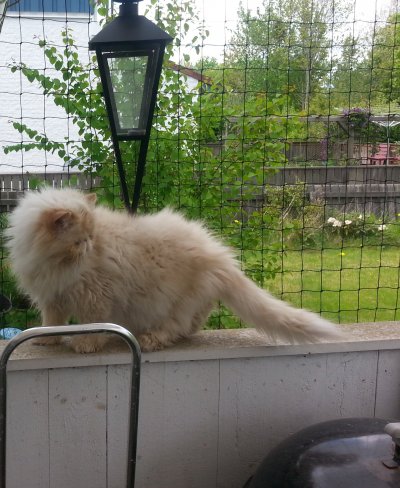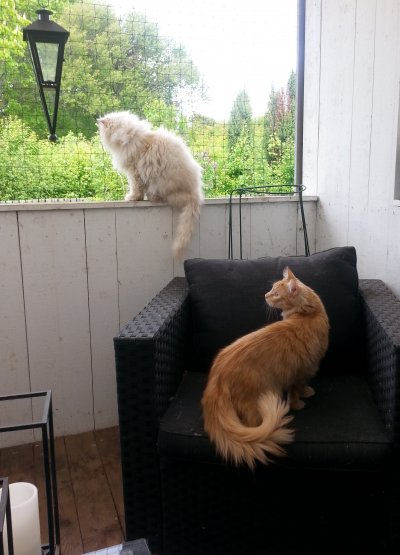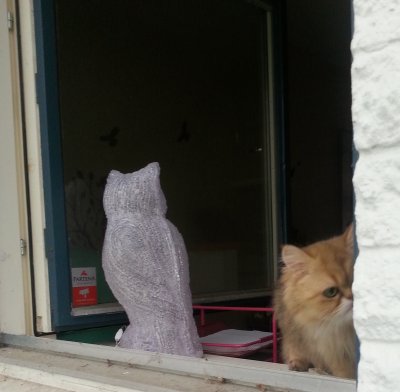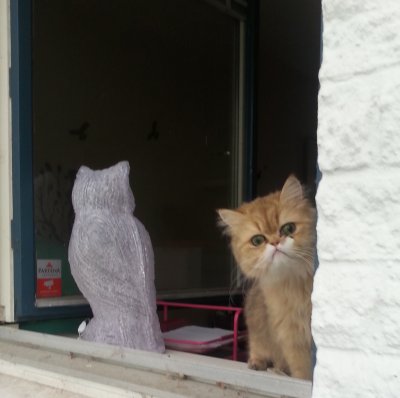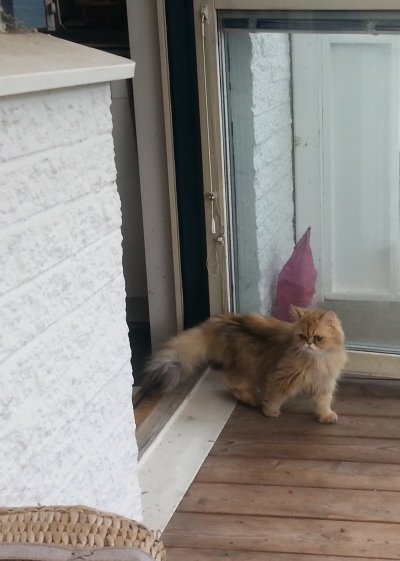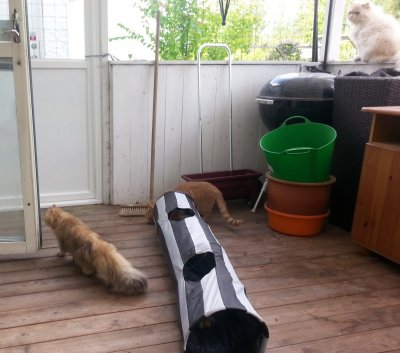 ---
Nytt att fundera på /

New issue to deal with
2015-05-22
Dörren till katternas uterum är snart klar, målning pågår. Vi längtar alla tills den kommer upp. Det ska bli så spännande, inte minst att se vem som kommer att vara först över tröskeln:)
Jag har dock ett litet huvudbry; här är en hel del utekatter varav åtminstone 2 är okastrerade hanar. Hur håller jag dem på avstånd från mina? Jag har en avelshona och det kommer garanterat att väcka deras intresse. Så, just nu pågår research på diverse tekniska prylar. Tror det kommer att bli någon typ av akustisk anordning med infraröd brytare. Min vännina Molly har provat massor av olika prylar genom åren och vi konfererar för fullt!
Vore väldigt bra om alla som har sina katter gående fritt ute såg till att de blir kastrerade. Då undviker vi också många oönskade dräktigheter......
The door for the catio is soon finished, right now it´s being painted. We´re alla longing for it to come up. It will be so exciting to see who´s the first over the doorstep:)
I do have an issue, though. We have quite a lot of free roaming cats outside and at least 2 of them are fertile males. How to make them keep a distance? I do have a queen and I know they´ll take an interest in her. So at the moment I´m researching various technical things, I think the ultra sound cat scram might be worth trying. My friend Molly has tried all kinds of gadgets throughout the years so we have a lot to discuss!
It sure would be nice if the owners of free roaming cats had their kitties neutered/spayd. That way we would also prevent unwanted pregnancies......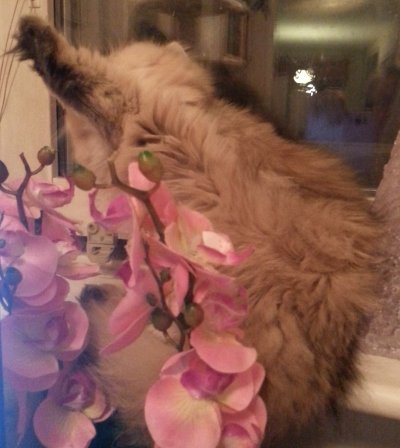 ---
Om någon undrar /

In case someone is wondering
2014-05-20
Jepp, jag är fortfarande söt och jag väntar fortfarande på min tur vid datorn!
Yep, I´m still cute and I´m still waiting for my turn at the computer!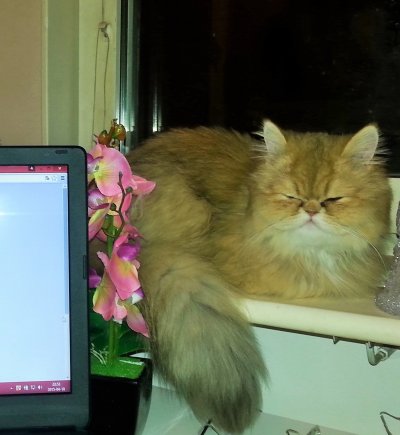 ---
Katter är eleganta djur...../

Cats are elegant creatures....
2015-05-19
....eller inte! Cayenne försökte hälsa på Big Daddy i hans "Ägg". Han var inte välkommen så på äkta kattvis låtsades han som om han inte ens försökt genom att tvätta Khanya istället. När Matimba hoppade upp i fönsterbrädan blev han nyfiken, rullade runt för att se bättre, lutade huvudet utanför bordsskivan och, ja, ni kan säkert lista ut resten!
....or not! Cayenne tried to pay Big Daddy a visit in his "Egg". He wasn´t welcome, so true to cats nature he pretended that he hadn´t even tried by giving Khanya a tounge bath insted. However, when Matimba jumped up in the window sill he got curious and rolled over in order to see better, leaned his head over the edge of the table and, well, I guess you can figure out the rest!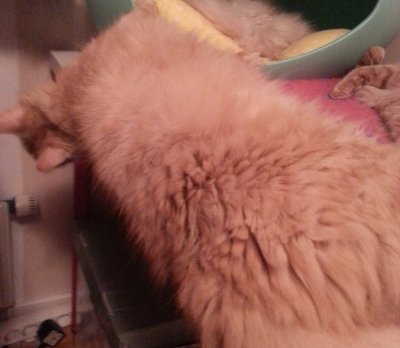 ---
Hipp hipp hurra...../

Hip hip hurray
2015-05-18
Cayenne fyller 1 år idag! Idag för 1 år sedan födde Molly Cayenne och hans syskon. Syster Bella bor kvar med mamma Molly och systersonen Simba jr.
Cayenne har firat hela natten, både sin och Khanyas födelsedagar, så nu är han lite trött:) Cayenne borde också börja bli vuxen nu, men det är ett begrepp han inte förstår.....den evige kattungen!
Cayenne`s turning 1 year old today! This date 1 year ago Molly gave birth to Cayenne and his siblings. His sister Bella still lives with mum Molly and niece Simba jr.
Cayenne has been celebrating all night, both Khanya´s as well as his own birthday, so he is kinda tired:) Cayenne should be growing up as well by now, but he doesn´t understand that term.....forever a kitten at heart!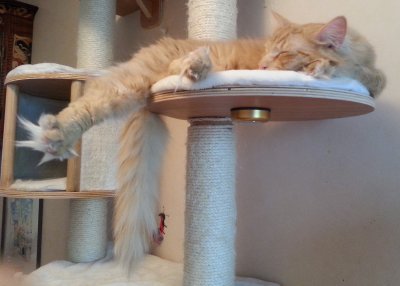 ---
Hipp hipp hurra...../

Hip hip hurray...
2015-05-17
Khanya fyller 1 idag! Idag för ett år sedan födde Mea Khanya och hennes bror Simba jr som bor kvar med mormor Molly och moster Bella ute på landet. Mea har sedan dess gått över regnbågsbron men lever kvar i sina kattungar.
Min lilla vackra, kloka tjej börjar bli stor. Jag hoppas att vi får många år tillsammans.
Khanya´s turning 1 year old today! This date last year Mea gave birth to Khanya and her brother Simba jr. Simba lives in the countryside with grandma Molly and aunt Bella. Mea has since then crossed the rainbow bridge but lives on in her kids.
My beautiful, clever little girl is growing up. I hope that we´ll spend many years together.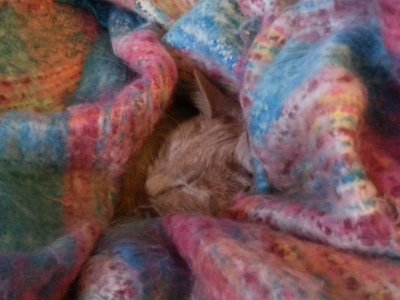 Simba jr njuter av sina domäner, perfekt kattliv!
Simba jr is enjoying his domains, a perfect kitty life!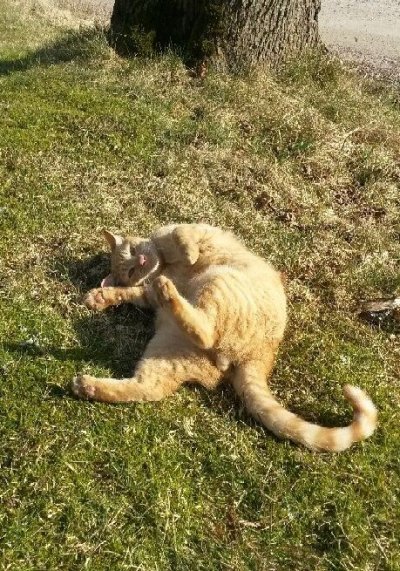 ---
Matimba "hälper till"/

Matimba is "helping"
2015-05-16
Matimba har tröttnat på att det bara är matte som får sitta vid datorn, så hon har nu en plan för att komma åt tangentbordet för egna aktiviteter.
Matimba har tired of me not letting her "use" the computer so she has figured out a clever plan to get hold of the keyboard for her own acitities.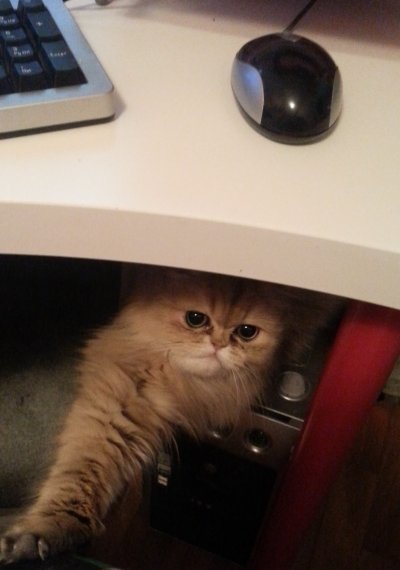 ---
Solsken/

Sunshine
2014-05-15
Solen skiner för andra dagen i rad! Fantastiskt! Katterna jagar de första yrvakna flygfän som förvirrat sig in. Tillverkningen av dörren går framåt, snart kan de nog få besöka sitt nya uterum.
Second day in a row with sunshine! Amazing! The kitties are busy hunting the first flies that has found there way inside the house. Door construction is progressing, hopefully they can soon visit their catio for the first time.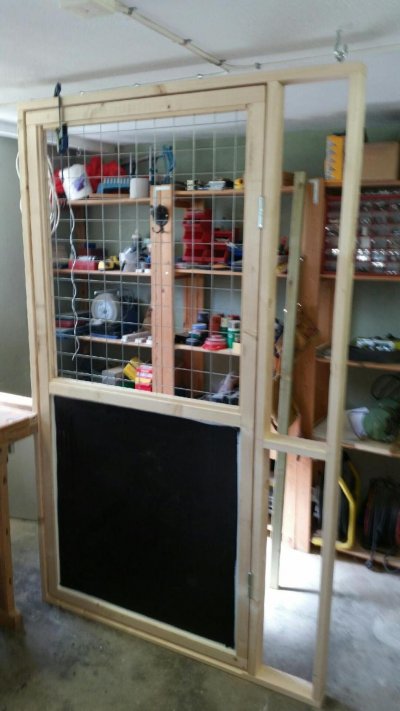 ---
Katternas uterum/

The kittie catio
2015-05-13
Idag fick vi meddelande om att dörren till katternas uterum nu är under tillverkning. Nätet i övrigt är redan på plats. Vi ser alla fram emot att få dörren på plats så att missarna kan vistas lite utomhus. Hittills har vi varit hänvisade till promenader i sele eftersom jag inte låter mina katter gå fritt utomhus. Fortsättning följer.....
Today we recieved news that the door for the catio is under construction, the rest of the net is already in place. We´re all looking forward to get it in place so that the kitties can be allowed some outdoor time. So far we have been out on "walks" in harness and leash since I don´t let my kitties roam free outside. To be continued....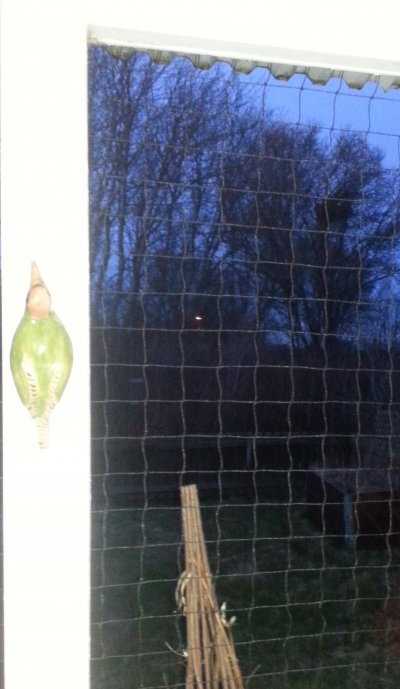 ---
Regn/

Rain!
2015-05-12
Inte så kul. Khanya längtar efter bättre väder och att matte ska få klart nätet runt altanen så att hon och resten av flocken kan få lite utomhustid.
Not so fun. Khanya is longing for better weather. And for mum to get finished with the net-project around the patio so they will be able to get some time outside.